Zagreb Airport, also known as Franjo Tuđman Airport, is the busiest and largest international airport in Croatia.
Its Croatian name is Zračna luka "Franjo Tuđman". Zagreb Airport is named after Franjo Tuđman, the first President of Croatia.
It handled around 3.4 million passengers and 13,500 tons of cargo in 2018.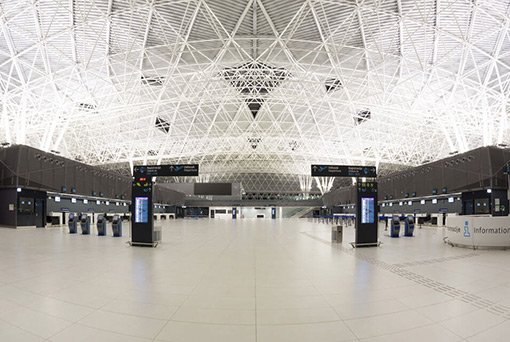 The Croatian Air Force's main base can also be found within the premises of Zagreb Airport.
General Information About Zagreb Airport:
Full Name: Zračna luka Franjo Tuđman
Airport Operator: Međunarodna zračna luka Zagreb d.d. (MZLZ d.d.), Aéroports de Paris
IATA identification code: ZAG
ICAO airport code: LDZA
Opening date: 1962
Elevation/Altitude: 108 m (354 ft)
Airport TimeZone: Europe/Zagreb
TimeZone GMT: 2:00
Website: http://www.zagreb-airport.hr
Location of Zagreb Airport:
GPS Coordinates: 45°44′35″N 016°04′08″E
Airport Address: Ulica Rudolfa Fizira 21 10 410 Velika Gorica Croatia
Getting to and from the Airport:
Zagreb Airport is located 10 km southeast of Zagreb Central Station in Velika Gorica.
Zagreb Airport Shuttle Bus
PLESO PRIJEVOZ is the company operating the shuttle between Zagreb Airport and Zagreb Central Bus Terminal.
A one-way ticket costs 30 Kuna while a round trip ticket costs 40 Kunas.
The travel time between the Zagreb Airport and the the Zagreb Central Bus Terminal is approximately 30 to 40 minutes.
There is a shuttle bus every 30 minutes.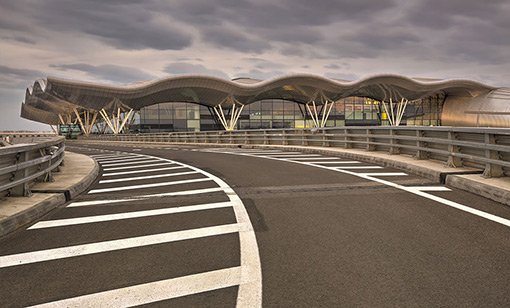 For more information on the trip schedules, visit the website http://www.plesoprijevoz.hr or you may also contact them at +385 01 6331-982 or through email split@plesoprijevoz.hr.
Public Transport / Local Bus
Another way to reach Zagreb Airport is by ZET Bus.
ZET or Zagreb Electric Tram started operating on March 28, 2017. There are trips every 35 minutes.
The route for ZET Line 290 is between Zagreb Airport and Kvaternik Square and there are 20 stops in total.
The first trip from Kvaternik Square leaves at 4:20 am from Monday to Saturday and 5:20 am on Sundays.
The last trip from Velika Gorica is as 12:15 am.
To check the timetable, visit https://www.zagreb-airport.hr/UserDocsImages/dokumenti/ZET_linija_290.pdf.
For more information, you can call 072500400 or send an email to javnost@zet.hr.
Taxi Transfers
There is a taxi stand at the Passenger Terminal. It is located at the ground floor of the Arrivals level of the Terminal.
The fare from Zagreb Airport to Zagreb city center may cost around 115 Kuna and it may take around 25 to 30 minutes.
Pre-booked Transfer
The most hassle-free transfer from Zagreb Airport to Zagreb city center is by going for a pre-booked transfer. You have an option to book either a private or a shared transfer.
For a private vehicle for 1-3 persons, it may cost around 35 Euros while it may cost around 50 Euros for a vehicle that can carry up to 8 passengers.
Zagreb Airport – Rent a car
There are local and international car rental companies that offer rent-a-car services at Zagreb Airport.
It is advisable to book your car rental in advance during the summer season to be sure that you will be provided with a car.
You can book your car rental on this site: Auto Europe car rental or you could also go to the respective websites of the car rental companies.
Here is a list of the car rental companies available at Zagreb Airport:
Avant
Hertz
Avis & Budget
Active
Alamo, National, Enterprise
AutoRent
SIXT
UniRent
car-rental.hr
CARWIZ
Dollar & Thrifty
Nova & Right cars
Europcar
Ride Car + Filipović
Oryx
Fleet
Goldcar & Rhodium
Flights to and from Zagreb:
Zagreb Airport is the hub of Croatia Airlines, the flag carrier of Croatia.
It is also a focus city for Trade Air.
These are the following airlines that have flights to and from Zagreb Airport, most of which are flights within Europe:
Croatia Airlines
Aegean Airlines
Air France
Aeroflot
KLM
Qatar Airways
Eurowings
Lufthansa
Trade Air
Korean Air
Turkish Airlines
Emirates
British Airways
Vueling
Austrian Airlines
Air Serbia
Czech Airlines
Iberia
Swiss International Air Lines
LOT Polish Airlines
EL AL Israel Airlines
Norwegian Air Shuttle
Silver Air
Sun d'Or
Tailwind Airlines
Air Canada Rouge (seasonal)
Air Malta (seasonal)
Air Transat (seasonal)
Brussels Airlines (seasonal)
EgyptAir (seasonal)
Flydubai (seasonal)
Regular flights to and from the following cities: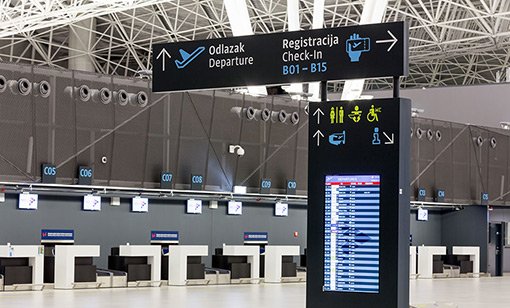 Athens
Moscow-Sheremetyevo
Paris-Charles de Gaulle
Belgrade
Vienna
London-Heathrow
Barcelona
Dubrovnik
Brussels
Dublin
Copenhagen
Lisbon
Frankfurt
Mostar
Munich
Rome-Fiumicino
Sarajevo
Skopje
Zurich
Prague
Berlin-Tegel
Cologne
Bonn
Duesseldorf
Stuttgart
Madrid
Seoul-Incheon
Warsaw-Chopin
Doha
Tel Aviv-Ben Gurion
Istanbul
Seasonal flights from Zagreb Airport:
Toronto-Pearson
Malta
Bucharest
Brač
Helsinki
Milan-Malpensa
Oslo-Gardemoen
Rijeka
Saint Petersburg
Stockholm-Arlanda
Cairo
Dubai
Lošinj
Antalya
Cargo flights that also make use of Zagreb Airport:
DHL Aviation – Bologna, Venice, Milan, Cologne, Leipzig, Ostrava,
Qatar Airways Cargo – Doha
MNG Airlines – Istanbul, Paris
Services on airport:
Parking on Zagreb Airport:
There are various parking options available at Zagreb Airport.
There is an option to park at the outdoor public parking or at Kiss & Fly Zone if you will leave the car for a couple of days or weeks.
There is also a designated parking for bus and public transport, tourist coach area for tourist buses, shuttles, and camper vehicles, and taxis.
There are 800 parking slots available at the public car park.
Parking Rates:
10 minutes – free
1 hour – 27 Kunas
2 hours – 47 Kunas
3 hours – 70 Kunas
From 3-6 hours – 78 Kunas
From 6-12 hours – 110 Kunas
From 12-24 hours – 150 Kunas
From 24-48 hours – 210 Kunas
From 3rd to 5th day each additional day – 72 Kunas
From 6th day each additional day – 68 Kunas
Lost parking card – 800 Kunas
You can leave the parking premises without verifying the parking card if you spend less than 10 minutes inside the parking lot.
Payment shall be done at the parking payment desk found on the ground floor of the passenger terminal arrivals area.
You need to leave the parking premises within 15 minutes upon payment.
There is a designated parking for motorcycle and bicycles at the public car park.
For motorcycles, payment is done through the pay-on-foot car park cashiers.
There are also instructions available at the public parking entrance and the car park found beside the pay-on-foot parking cashiers.
Bicycle parking can be found outside, on the right edge of the arrivals section of the passenger terminal building.
Tourist Buses/ Camper Vehicles / Shuttles Parking Rates:
Up to 29 minutes – free
From 30 minutes up to 3 hours – 70 Kunas
From 3 hours up to 24 hours (daily parking ticket) – 150 Kunas
Cafes, Bars, and Restaurants in the Airport:
There are a number of cafes, bars, and restaurants spread throughout the airport for the passengers to enjoy while waiting for their flight. BTA Food & Service Group is in charge of the various cafes, bars, and restaurants inside Zagreb Airport.
These are the list of cafes, bars, and restaurants found inside the Zagreb Airport:
Departures (before security control):
Cakes & Bakes
POM
Departures (after security control):
Brewmark Pub
Spread
Caffe Nero
Needstop
Arrival:
Antonia
Caffe Nero
Shopping:
Aside from the usual duty free, there are also a number of shops to choose from and are spread throughout the Zagreb Airport where passengers can enjoy shopping.
Departures (before security control):
From Designers with Love – showcases various goods from local artists, designers, micro-manufacturers, and artisans from Croatia
Tisak Media – sells books, newspapers, magazines, gadgets, top up cards, postcards, tobacco, souvenirs, luggage tags, lottery tickets, travel accessories, and more
Departures (after security control) Aelia Duty Free :
Art of the gift – sells products from the most prestigious international brands like Chanel, YSL, Dior, Hermes, Godiva, Benefit, etc and from the big brands in Croatia too such as Aura, Stella Mediteranea, Bioaromatika, and Kraš.
Sense of Place – sells the famous delicacies, wines, olive oils, truffles, handmade sweets, etc. in Croatia.
The Fashion Place – concept store where you can find clothes, jewelry, fashion accessories, sunglasses, etc. from world famous brands like Longchamp, Ray Ban, Gucci, Guess, Prada, Calvin Klein, Superdry, etc.
*Shop & Collect Service – This service allows customers to take their purchased products after returning from a trip.
Arrival:
Tisak – Croatian retailer that offers a wide range of products including bus tickets for Zagreb Line and various cities in Croatia
Wi-Fi:
Wi-Fi is free throughout the terminal – all public areas, restaurants, and lounges. Connect to "Zagreb_Airport_Free". Enter the details required from you and accept Terms & Conditions. Accept the Privacy Statement and click. You will be connected to the internet afterwards.
Business Lounge:
Primeclass Lounge operates the business lounge in airport Zagreb where aside from a cozy and relaxing atmosphere, passengers can enjoy a buffet of complimentary snacks, TV, newspapers, magazines, access to wireless Internet, laptop corner, etc. while waiting for their flight.
Ticketing:
You can reserve flights at Zagreb Airport for the following airlines:
Air France
Air Serbia
Eurolot
Eurowings
KLM
VIP Services:
There are various VIP services available at Zagreb Airport:
VIP Fast Track Services – gives passengers an escort to immigration clearance and to the airport exit until they are able to catch their ride in going to the city center or to the lounge for passengers that are about to depart
VIP Minibus Transfer – transfer to and from the aircraft
Zagreb Airport Lounge – various lounges inside the departure area that charge passengers by the hour
Porter Services – costs 25 Euros (without VAT) for up to 4 pieces of luggage
Send a Package by Plane:
This service allows passengers to send packages by plane after filling out the required information such as the type of goods, dimensions, weight, type of packaging, and sender and recipient's addresses.
Baby Care:
Baby Care Facilities are available throughout the Passenger Terminal where you can find changing and breastfeeding stations.
Medical Help:
If you need an emergency medical treatment, simply dial 2120 and you will be sent an ambulance.
Airport Tours:
Airport in Zagreb offers a one hour tour of the airport which costs around 20 Kunas per person.
Contact Info:
Telephone: 01 4562 222
Email: info@mzlz-zagreb-airport.hr