Brač Airport, also known as Bol Airport or Zračna luka Brač, is an airport situated on the Croatian Island of Brac, near the town of Bol. There are three island airports in Croatia and Brač Airport is one of them.
The other two are Krk island's Rijeka Airport and Lošinj island's Lošinj Airport.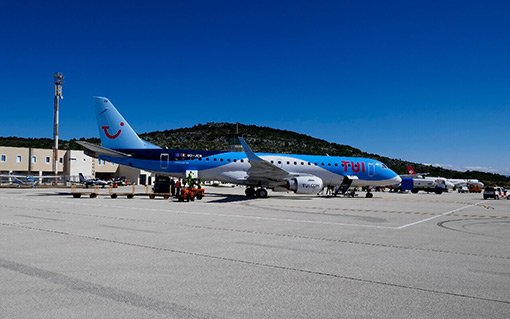 General Information:
Full Name: Zračna luka Brač
Airport Operator: Aerodrom Brač d.o.o.
IATA identification code: BWK
ICAO airport code: LDSB
Opening date: May 22, 1992
Elevation/Altitude: 1781 ft or 543 m
Airport TimeZone: Europe/Zagreb
TimeZone GMT: 2:00
Website: https://www.airport-brac.hr
Location of Brač Airport:
GPS Coordinates: 43°17'09″N 16°40'47″E
Airport Address: Sjedište – Gornji Humac 145, 21414 Gornji Humac, Croatia
Getting to and from the Airport:
Brač Airport is located in Veško field which is 543m above sea level. It is 30 km away from Supetar, the largest town on the island, and 14 km away from Zlatni Rat, one of the most popular and most photographed beaches in Europe.
Public Transport / Local Bus

Unfortunately, there is no public transport from Brač Airport to any location on the island.

Taxi

Taxis are available at the Brač Airport although it may cost a lot.

Taxi Kacavida offers taxi services and car transfers from Brač Airport to Bol, Brač, and other places in the island. Taxi boats are also available if you want to visit other islands or places in Croatia.

You can visit this website: http://www.taxi-supetar-brac.com/indexen.html for more information.

Pre-booked Transfer
Since there is no public transportation from Brač Airport to get elsewhere, it is recommended to pre-book a transfer especially during the summer when it can be crowded and you may have a hard time getting a taxi to your destination.
This is the most comfortable and the most convenient option as well.
Rent-a-car
Another hassle-free option to get from Brač Airport to your destination is through a rental car.
A rental car will not only take you from the airport to your hotel. You can also use it to discover the city. There are no car rental companies available in Brač Airport so it's recommended to book a car rental in advance.
These are some of the car rental companies that can offer you their car rental services within the island of Brač you can also book your car rental in Croatia on this link Auto Europe car rental
Flights to and from Brač Airport:
These are the airlines that have flights to and from Brač Airport:
Croatia Airlines
TUI Fly
Luxair
Adria
Czech Airlines
There are regular flights to and from Zagreb on Tuesdays and Saturdays through Croatia Airlines.
These are the international flights to and from Brač Airport:
Austria – via Gruber Reisen Graz http://www.gruberreisen.at/
Belgium – via TUI Fly https://www.tuifly.be/en
France – via TUI Fly https://www.tuifly.be/en
Luxembourg – via Luxair https://www.luxair.lu/
Netherlands – via TUI Fly https://www.tuifly.be/en
Slovenia – via Adria https://www.adria.si/en/
Services on Brac Airport:
Parking:
The parking lot beside the airport building is where you can park personal cars free-of-charge. The parking lot is not covered but it is under a 24 hour video surveillance.
Cafe:
Catalina Café is a Caffe Bar located near the check-in counter of Brač Airport. This is where you can get coffee, refreshments, or snacks.
The area is spacious where passengers can sit and relax while waiting for their flight.
Inside the café, just a few meters away from the operating area of the airport, there is a terrace for smokers. From this terrace, you can watch the aircrafts or simply enjoy the view while sipping coffee.
There is also a "Pilot Corner" within the confines of the Caffe Bar where you can plan or map out your flights or trips.
The opening hours of Catalina Café is the same as the opening hours of Brač Airport.
Shopping:
Travel Value Shop is available inside Brač Airport where one can find local products of the Adriatic coast and of Brač.
There are high-quality wines, homemade brandy, extra virgin olive oil, and liqueur. You can also find traditional Dalmatian spices, delicacies, natural soaps, etc.
The prices of the products are written in Kuna but passengers can pay in foreign currencies and through credit card.
The products are carefully selected based on the quality, production, and packaging.
Playroom:
There is a thematic playroom setup at the Catalina Café. This is where kids can play while the adults enjoy their coffee at the table.
The kids can still see their older family members from the playroom.
Guided Tour:
There is a guided tour inside Brač Airport that lasts for approximately 20 minutes and costs 20 Kunas per person.
You can experience the airport through this tour. This organized tour will take you to the center of all aircraft activities. Watch the actual operation of the airplanes live.
The programs for the organized tours are for all ages.
If you want to avail of this service, inform the staff of the airport immediately. You can book a guided tour by calling +385 21 559 711 or by sending an e-mail to info@airport-brac.hr.
Lost Baggage:
For damaged or lost baggage either at Brač Airport or inside the aircraft, you can contact the "Lost and Found" office of the airport and report the problem to the authorities.
You can also contact +385 (0) 21 559 711 or send an e-mail to lost-found@airport-brac.hr to make a report.
The officer-in-charge will write a record and will explain to you in detail the following procedures that need to be done in order to recover your lost belongings.
Passengers with Special Needs:
When booking a flight to Brâc, immediately inform the airline of special needs. Indicate whether the passenger has limited ability, is an unaccompanied minor, or the passenger is traveling with pets.
Airport staff will assist passengers with limited mobility and who have difficulty in accessing the aircraft on their own.
The airport staff will assist the passenger from getting off the plane until the moment he/she reaches his/her transfer vehicle if the passenger just arrived the airport or the other way around for outbound flights.
The airport staff will assist the passenger starting from check-in until he/she boards the plane. This service is a right of the passengers with disability so there is no extra charge for this.
If a minor is unaccompanied by an adult during the flight, he/she is taken care by a ground hostess who will guide the minor until he/she boards the aircraft.
The parents or the adults who accompanied the minor to the airport must not leave the premises of the airport until the aircraft takes off.
Pets:
Pets can be brought to Brač Airport provided that they meet the conditions and requirements by the country you are visiting and by the airline that you are flying with.
The pets need to be put inside a container or cage under certain conditions. They can either be placed in the aircraft baggage or the passenger compartment.
Check with your airline regarding the conditions for traveling with pets and bringing them to the aircraft.
Places to Visit near Brač Airport
Bol
Zlatni Rat or Golden Horn beach is one of the most beautiful beaches in Croatia. Zlatni Rat beach and Bol are just a few kilometres away from the airport.
Zlatni Rat is popular for its long white horn that slopes into the Adriatic where its shape and direction changes depending on the tidal movement and wind type.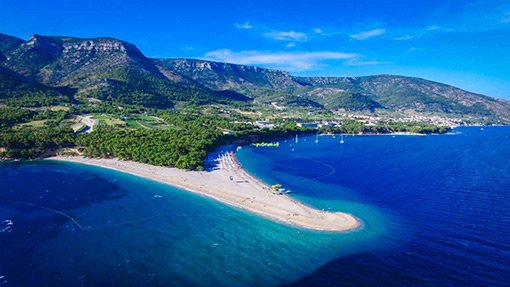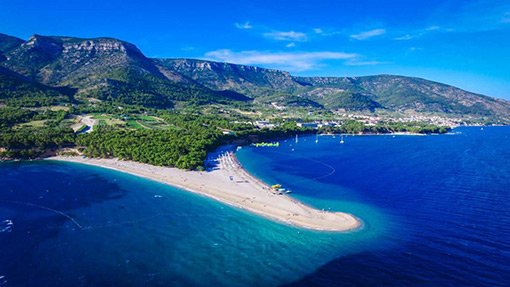 Bol is the oldest coastal town in Brač island and also one of the most popular tourist destinations in Croatia. Bol is the perfect place to visit if you want to experience an authentic Dalmatian landscape and a true Mediterranean atmosphere.
You can also go hiking in Black desert or at Vidova Gora, the highest peak of Brač island, try windsurfing near Zlatni Rat beach, or go diving at Babic stina between the remains of a Roman villa from the 1st century BC.
Supetar
Supetar is the tourist capital in Brač island. It is 30 km away from Brač Airport which can be visited through Split or by ferry.
It is located in the northern part of Brač. It is famous for its historical sights in the city center and some archaeological monuments in the area.
Milna
Milna is 30 km away from Brač Airport and on your way to Milna from the airport, you will enjoy a scenic view of the beautiful villages and places in the center of Brač such as Donji Humac, Dračevica, and Nerežišća.
Milna is a great place to relax and enjoy the beauty of the Adriatic marina.
Postira
Postira is located 30 km from Brač Airport which can be found on the northern side of Brač island.
Many famous Croatians were born in or originated from Postira.
It is a picturesque Dalmatian place with a lovely view of the mountains, the rivers, and the sea. This place is also known for its fish factory.
Contact Info:
Telephone: +385 (0)21 559 701
Fax: +385 (0)21 559 709