Split Airport or Zračna luka Split is an international airport serving the cities Split, Kaštela, and Trogir, Croatia.
It is also known as Resnik Airport.
The local name for it is Zračna luka Resnik.
Split is the second largest city in Croatia and the capital city of Dalmatia region.
It is located on the Adriatic Coast and it is one of the popular tourist destinations in Croatia.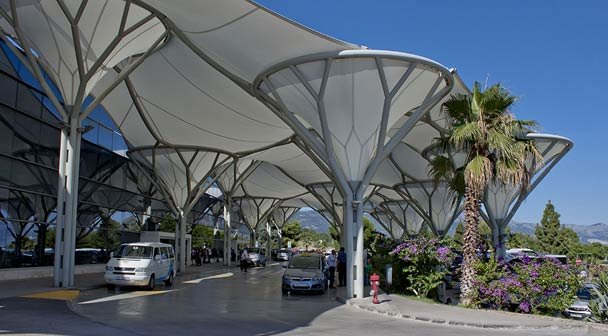 Split Airport became the second busiest airport in Croatia next to Zagreb in 2018.
It handled around 3.12 million passengers.
The airport's busiest season is during the summer.
Split is a major tourist destination and an important transportation hub during the European summer.
There are around 200 flights and 50,000 passengers on weekends.
General Information About Split Airport:
Full Name: Zračna luka Split d.o.o.
Airport Operator: Split Airport Ltd.
IATA identification code: SPU
ICAO airport code: LDSP
Opening date: November 25, 1966
Elevation/Altitude: 78 ft or 24 m
Opening Hours: 6:00 am – 10:00 pm
Airport TimeZone: Europe/Zagreb
TimeZone GMT: 2:00
Website: http://www.split-airport.hr/
Location of Split Airport:
GPS Coordinates: 43° 32′ 11.99″ N 16° 17′ 31.80″ E
Airport Address: Cesta Dr. Franje Tuđmana 1270, 21217, Kaštel Štafilić, Croatia
Getting to and from the Split Airport:
Split Airport is located 12 km northwest of Split. It is located at the exit of Kaštela towards Trogir.
It is 20 km from Split and 6 km from Trogir.
Airport Shuttle Bus
PLESO PRIJEVOZ offers trips from Split Airport to Platform No. 1 of Split's main bus station and vice versa.
Split main bus station is located next to the port and train station.
The buses from Split Airport leave 20 minutes after airplane landing.
The travel time from Split Airport to Split Main Bus Station is 30 minutes.
A one-way ticket costs 30 Kunas.
The payment will be collected by the driver or the conductor once you board the bus.
For more information on the trip schedules visit the website http://www.plesoprijevoz.hr or you may also contact them at +385 21 2031190 or through email split@plesoprijevoz.hr.
Public Transport / Local Bus
There are two local buses that can take you from Split Airport to Split.
Bus No. 37 is a local bus that operates a route from Split to Trogir and from Trogir to Split.
Bus No. 38 is a local bus that operates a route from Split Airport to Kastel Start and then to Split and vice-versa.
Bus No. 37 has more frequent trips.
The ticket to Split costs 17 Kunas and the travel time is approximately 50 minutes from the airport to city centre.
You can get the ticket from the bus driver.
The buses are located on the main road just outside Split Airport and not inside the the terminal building.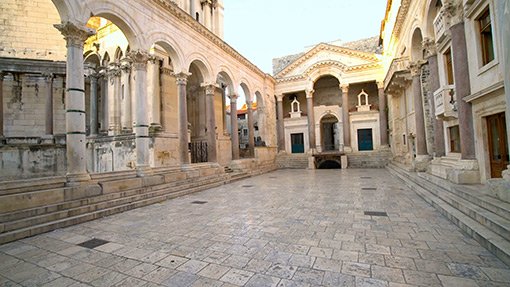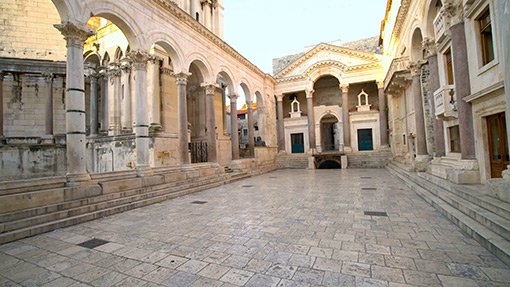 Both buses end at the local bus station, Sukoisan Street.
Take a taxi or another local bus (Bus No. 2, 9, 10, or 15) to reach your final destination.
These local buses pass by Diocletian's Palace and the port area and bus or train station.
For more information on both bus lines, please check the website http://www.promet-split.hr/. For specific details on Bus No. 37, please visit http://www.promet-split.hr/en/airport-line.
Taxi Transfer
Taxis are available at the Split Airport during its operating hours from 6:00am until 10:00 pm.
A taxi from Split Airport to the main area of Split or to the bus or train stations or even the port would cost around 250 Kunas and the trip takes around 30 minutes.
Pre-booked Transfer
For a hassle-free transfer from Split Airport to Split, Trogir, Makarska, Tučepi, and Baška Voda and vice-versa, you may book either a shared or a private transfer through tours and experiences company Viator.
For more information on these transfers, please check the following links:
Shared arrival transfer from Split Airport
Shared departure transfer going to Split Airport
Private arrival transfer from Split Airport
Private departure transfer going to Split Airport
Rent A Car In Split Airport
Another hassle-free option to get from Split Airport to your destination is through a rental car.
A rental car will not only take you from the airport to your hotel.
You can also use it to discover the city.
There are a lot of rental car companies available at Split Airport.
You can book on this link Auto Europe car rental
These are:
Right Cars
Enterprise
Gold car
Alamo
National
Europcar
Sixt
Oryx
Hertz
Fleet Rent A Car
Avant Car
Firefly
Thrifty
Dollar
Budget
Flights to and from Split Airport:
Split Airport is a hub of Croatia Airlines.
There are regular flights to and from Cologne, Dusseldorf, Munich, and Stuttgart via Eurowings.
Croatia Airlines have flights from Dubrovnik, Frankfurt, Munich, Palermo, Rome (Flumicino), and Zagreb and flights to Frankfurt, Munich, Rome (Flumicino), and Zagreb.
Trade Air d.o.o. offers flights to and from Dubrovnik, Osijek, Pula, and Rijeka.
There is also a once a week flight to and from London (Luton) via WIZZ Air and to and from Zurich via Edelweiss.
Flights to and from Tel Aviv are via Arkia Israeli Airlines.
There are also once a week flights from Copenhagen via DART Ltd, Air Company, Kristiansand and Stockholm (Arlanda) via SAS, and Oslo via Transavia.
The other operating airlines for Split Airport include Thomas Cook Airlines, Travel Service, EasyJet, TUI Airlines Belgium, and Lufthansa.
Aside from the regular flights there are also seasonal flights from other European cities like Athens, Paris, Vienna, Moscow, Dublin, Belgrade, Riga, Brussels, Madrid, Amsterdam, Luxembourg, and a whole lot more.
There are also seasonal flights from other major and low-cost European airlines such as Austrian Airlines, Aegean Airlines, Aeroflot, Alitalia, British Airways, Finnair, KLM, Ryanair, Vueling, etc.
Airport Split Services: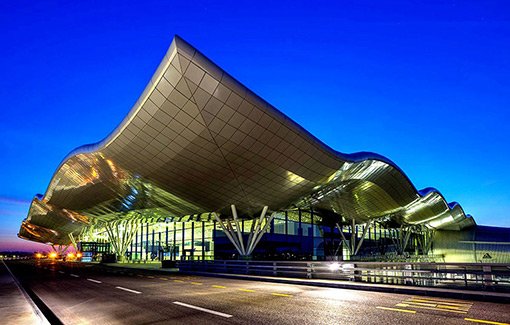 Web Check-in:
Doing a web check-in will save you a lot of time. It can be done for most flights. You can do the web check in through the website https://www.split-airport.hr/default.aspx?airport=spu or you can also do it on the respective airline's website.
You just need important details such as your name, surname, reservation code, frequent flier card, or electronic card number.
The web check-in conditions vary per airline but for most of them, you need to do the web check-in 40 minutes before the flight at the most.
Some airlines like Croatia Airlines and Brussel Airlines allow you to check-in at least 35 hours before the flight, some let you check-in 30 hours before the flight, others only let you do the web check-in 23 hours before the flight, while most of the other airlines only allow you to do the web check-in at least 12 hours before your flight.
For passengers with baggage, they can still do a web check-in and just go to the Drop-off counter to check-in their baggage.
Web check-in services may be limited for connecting flights and for flights where Split is a middle destination.
Web check-in is not allowed for persons with special needs or for unaccompanied children.
Parking on Split Airport:
Parking is available at Split Airport.
North parking are divided into zones with specific restrictions per zone.
South parking is located at the south of the road Cesta dr. Franje Tudmana.
The parking fee depends on the number of hours that you will park your car.
If you fail to find a free parking spot within 15 minutes upon entering the parking lot, you will not be charged for parking fee.
Take the parking ticket as soon as you enter the parking lot and keep it until you pay and leave the parking lot.
You need to leave the parking lot within 15 minutes from payment. In case you lose your parking ticket, you would need to pay a fee for that.
The payment can be done at the parking payment reception at the ground floor of the passenger terminal, at the automatic cash desk inside the parking area, or through SMS with the given instructions on the parking ticket.
The yellow zone for the north parking is for parking and stopping of buses which is only allowed for 60 minutes.
The blue zone is for parking and stopping of vans which is limited to 30 minutes.
Red zone is for dropping of and taking in of passengers from Kiss & Fly and for stopping of scooters, motorbikes, and cars under categories A, A1, A2, AM, and B.
Stopping is limited to 5 minutes.
The rest of the cars are not allowed in the north parking.
Bars and Restaurants:
There are 2 cafes before security control. There aren't any restaurants or cafes after security control.
There is a business lounge for business class passengers of specific airlines where they can access hot and cold beverages, alcoholic drinks, reading materials, free wifi, power supply for charging electronic gadgets, computers with internet access, satellite TV, and information monitors.
Duty Free:
You can do your shopping of various international brands at the duty free shop. The prices are in Euros but passengers can pay in all currencies and with all credit cards. Take note of the restrictions and limits for shopping liquors and cigarettes.
Bank:
There is Splitska banka at the ground floor of the passenger terminal where passengers can do banking and currency exchanges. Bank hours are from 6:00 am to 1:00 pm and 2:00 to 9:00 pm.
Mini Market:
You can also shop for authentic Croatian gifts, souvenirs, and other products at the Mini Market located at the ground floor of the passenger terminal. Its opening hours are the same as the airport opening hours.
Contact Info:
Telephone: ++385 (0)21 203 555
Fax: ++ 385 (0)21 203 422