Nowadays, official Croatia currency is called Kuna.
Kuna is official Croatia currency since 30-th May 1994 and it came as a substitute for previous Croatian dinar.
The name Kuna came from Croatian word for marten or musteline, animal whose fur in Dalmatia, Slavonia and coastal Croatia were used for trading and as payment in the distant past.
The character of marten were also used between 13-th and 14-th century on official Croatia currency called "Banovac".
Minor part of Kuna is called "Lipa", 1 kuna is equal to 100 lipa.
This smaller parts of Kuna gained its name after Croatian word for linden tree – lipa.
Linden tree symbolizes Slavic background of Croats.
In distant past all major events like weddings, court disputes and schooling were hold under linden tree.
Croatian Kuna paper banknotes
Paper banknotes are 10, 20, 50, 100, 200, 500 and 1000 kunas, there used to be 5 kuna paper banknote but National bank of Croatia not printing them anymore, although they are still legal tender except notes printed before 1994.
Croatian Kuna coins
Come in denominations of 1, 2, 10, 20 and 50 lipa then in 1, 2 and then in Croatia popular 5 kuna know as "Medo" (bear).
There is also a coins of 25 kuna (11 different versions) but they are very rare since release of those coins was only for special occasions and in limited editions.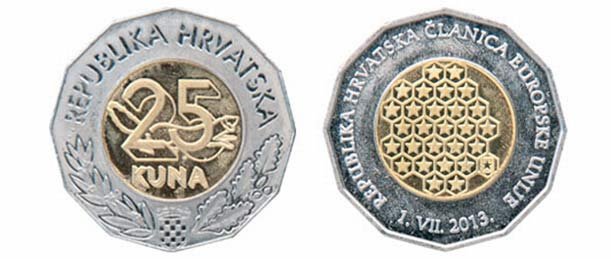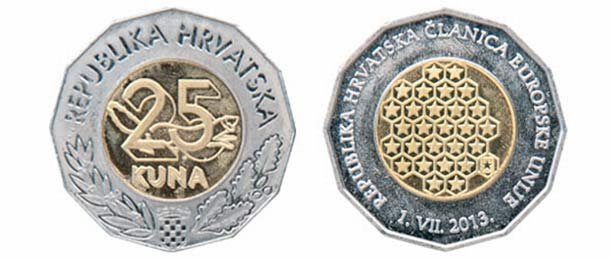 Exchanging to Croatia currency
Although Croatia is member of European Union since 1. July 2013, official Croatia currency is still Kuna.
However there are some speculation that Kuna will be replaced by the Euro until July of 2021 when Croatia should be member of eurozone.
Exchange rate of Kuna
Croatian Kuna is closely bonded with Euro, what makes Kuna strong and stable currency and due to fact that many Croatian holding they bank savings in Euros, while many people think that is bad choice since strong Kuna does not favoring export of Croatia.
All payments in Croatia are legally bound to be made in Croatian Kuna, so you will have to exchnage your currency to Croatian one.
There is a lot of pressure on National Bank of Croatia for changing this directive particularly from sector of tourism.
However you can pay in euros or any other currency your private accommodation , hotel, travel agencies, rent a car companies or any other content or service whose prices are disclosed in euros, dollars or pounds, while for example in restaurants, bars, shops and other activities where are invoice is issued there might be a problems.
Where to exchange foreign currency to Croatian currency ?
We will present you couple possibilities how to easily convert your currency and where to get most for your money into Croatian Kuna when you are traveling to Croatia:
ATMs In Croatia
ATM machines are widely distributed all around Croatia even in smaller tourist resorts. You can easily find them all major spots Croatia airports, ferry ports, however this in not advisable due to the reason that Banks ATM will probably charge you exchange rate conversion.
Use ATMs just in case of extreme necessity.
All major credit cards are well accepted: Visa, MasterCard, Maestro, and Diners, less often American Express due to unpredictable chargeback.
Exchanging currency in Hotel
Every hotel will be more than happy to exchange you foreign into Croatia currency but be aware that is usually at very poor exchange rates.
This option is also not advisable so use it just in extreme case.
Exchange rates at Bank, Post and exchange offices in Croatia
All listed are places where you will get most of currency exchanging in Croatia.
One thing is mandatory when you are exchanging you money there and it is common for all three places; you will have to show you passport or any other valid ID with picture of you.
Exchange offices
Post offices are wide spread in Croatia especially in tourist resorts even smaller ones same thing is with exchange offices, you can easily find them in every major vacation sport whether its airport, ferry port or anything else some of them even have 0 to 24 working time during season.
Banks and post offices
Converting your currency into Croatian at same rates as exchange offices, you can also cash out your Travel checksthere and fees may vary from no fee to 5 euros per cheque.
It would be advisable to bring cheques with bigger denomination.
Only minus to post offices and banks are shorter working hours even during season they are usually working from 7am-7pm on working days and sometimes on Saturday from 8am to 2pm.
What world currencies are commonly accepted in Croatia ?
All major world currencies are commonly accepted:
Euros
US Dollars
Australian Dollars
Canadian Dollars
UK Pounds
However you might run into a problems if you trying to change Hungarian forint in Kuna because they are not accepted in Croatia.
All exchange rates are formed by National Bank of Croatia and they are changing usually once a day.
Below you can check exchange rates for foreign to Croatia currency that is updated once a daily published rates of European Central Bank (ECB).
Currency Calculator
From USD
To CAD