Osijek Airport, also known as Zračna luka Osijek in Croatian language, is an international airport that serves Osijek, Croatia. It also serves Vukovar.
Osijek is the regional center of Eastern Croatia.
The Osijek Gravity Area has a potential of 1.5 to 2 million passengers.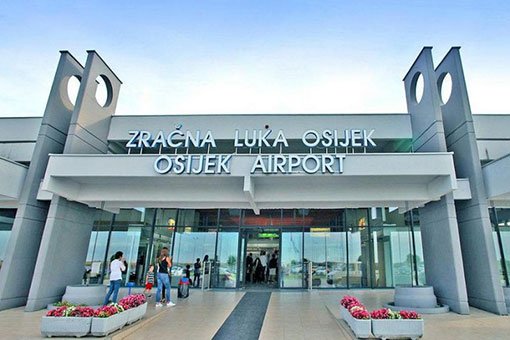 There are 890,000 inhabitants in Croatia plus the neighbouring cities or places that are about 100 to 150 km or 1 to 2 hours drive from Osijek Airport. The gravitational area extends to neighboring countries like Serbia, Bosnia and Herzegovina, and Hungary.
Osijek Airport is the region's first choice when it comes to cargo needs because of its favorable geographic and transport location, spare capacity, equipments, and its modern design. Its apron can handle large freight aircrafts like the A330 and the B747.
General Info of Osijek Airport
It was built in 1980 to be an alternative airport for Belgrade with a primary purpose as an air cargo. Osijek Airport is the first airport in Croatia that focused its development on a strong air cargo strategy.
At present, Osijek Airport is still being used as an ad hoc cargo airport for 747s and II-76s.
Osijek has a lot of competitive advantages over other airports of the EU especially when it comes to transporting perishable goods, electronics, livestock, humanitarian goods, or goods of high value.
It also has an advantage when transporting products between the EU and other countries in Asia, Africa, North America, and the Middle East.
These are the advantages of choosing Osijek Airport for air cargo operation:
2,500 x 45 metres runway
Great position or location with strong industrial hinterland and transport links
24/7 operations / service upon request
Independent ground handling
Good weather
Scheduled services are offered an "all inclusive" price policy
Independent customs, forwarder, sanitary inspectors, and veterinarians
General Information:
Full Name: Zračna luka Osijek
Airport Operator: Zračna luka Osijek d.o.o. or Osijek Airport Ltd.
IATA identification code: OSI
ICAO airport code: LHKE
Elevation/Altitude: 290 ft or 88 m
Airport TimeZone: Europe/Zagreb
TimeZone GMT: 2:00
Website: http://www.osijek-airport.hr
Location of Osijek Airport:
GPS Coordinates: 45°27'45.6″N 18°48'36.56″E
Airport Address: Vukovarska ulica 67, Klisa 31207, Osječko-baranjska županija, Croatia
Getting to and from the Osijek Airport:
Osijek Airport is located 20 km southeast of Osijek, near the regional road of Osijek-Vukovar, southwest of the village of Klisa.
It is the connection to the Slavonia region in Eastern Croatia.
It is also close to the borders of Hungary and Serbia which makes it easy for these countries to access the islands in Croatia.
Airport Shuttle Bus
Croatia Airlines has a shuttle bus that takes passengers to Osijek for 25 Kunas.
Public Transport / Local Bus
There are no public bus lines or transportation to and from Osijek Airport but if you want to know more information on the bus and trains that pass nearby towns, please contact
Bus Operators
Autobusni kolodvor Osijek
tel: 060-334-466
Autobusni kolodvor Vukovar
tel: 060-337-799
Rail
Željeznički kolodovor Osijek
tel: 060 333 444 ili 031 205 155
Željeznički kolodovor Vinkovci
tel: 060 333 444
Taxi Services
Passengers can easily access Osijek from Osijek Airport through taxi. Gospodar gradskih ulica – OSJEČKI TAXI does transfers from the Osijek Airport to Osijek and vice versa.
This taxi company owns 26 Škoda Octavia cars and 2 large vans for a larger fleet of passengers. The employees of this taxi company will ensure that you arrive safely and on time on your flight.
If you wish to book and arrange a transportation through this taxi company, please call 031 200 200.
You can also download the OSJEČKI TAXI app that can be found on Google Play and the App Store.
Pre-booked Transfer
Fox Transfer provides shared or private services from Osijek Airport to Osijek and other parts of Croatia. You can book either a taxi or a minibus, depending on the number of passengers.
If you want to book your transfer, you can do it through this website: https://foxtransfer.eu/osijekairport.en.html.
Once you make a reservation, you will receive an instant confirmation regarding your airport transfer.
The online booking form will ask you for details such as pick-up, destination, flight arrival (including date and time), number of passengers, flight departure (including date and time), and the number of passengers.
If your destination is not on the list, just write it down and you will be given a quotation.
Rent A Car On Osijek Airport
There are no car rental companies based at the Osijek Airport but you can still contact car rental companies through the partner car rental companies of Osijek Airport.
The partners of Osijek Airport are Pulse Rent A Car, Sixt Rent A Car, Uni Rent Car Rental.
For more information you can check on this link Auto Europe car rental
Flights to and from Osijek Airport: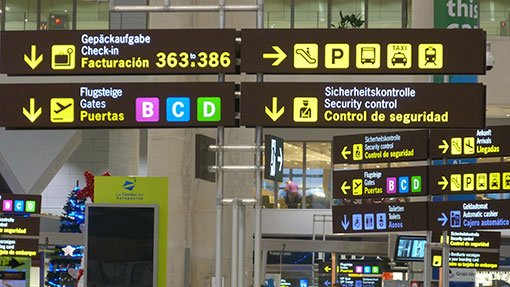 These are the airlines operating at the Osijek Airport:
Croatia Airlines
Eurowings
Wizz Air
Trade Air
The destinations that can be reached through the Osijek Airport are:
Cologne
Basel
Zagreb
Pula
Rijeka
Split
Dubrovnik
There are 8 flights to and from Zagreb per week, 3 flights to and from Basel in a week, 3 flights to and from Pula in a week, and 2 flights to and from Rijeka in a week.
Services:
Web Check-in:
Save time in the airport by doing a web check-in.
You can do this easily on the airline's website.
Simply enter your name, surname, reservation code or electronic ticket number.
The flight ticket terms and conditions are different per airline.
Luggage:
Each airline has its own baggage policy. If your luggage exceeds the weight that is determined by the rules, you will be charged per excess kilogram. The size and quantity of your luggage should also be under the conditions set by the airline.
Here is the hand carry baggage allowance for the following airlines:
Trade Air
Maximum weight: 6 kg
Dimensions: up to 115 cm (55x40x20)
Croatia Airlines
Maximum weight: 8 kg
Dimensions: up to 115 cm (55x40x20)
Passengers are allowed to take 1 piece of personal luggage (ie. handbag, laptop, laptop case bag) with a maximum dimension of 40x30x10 cm.
If the passenger is traveling with a baby up to 2 years of age, he/she is also entitled to bring either a child car seat or a carrier.
Disabled or sick passengers are allowed to bring orthopedic aids, jaw aids, or any other orthopedic device.
Osijek Airport Parking:
There is a parking space right next to the airport terminal.
You don't have to pay for the first 15 minutes but once you exceed 15 minutes, you will be charged with a parking fee.
Here are the parking rates at the Osijek Airport:
1 hour – 10 Kunas
2 hours – 20 Kunas
3 – 4 hours – 30 Kunas
4 – 24 hours – 70 Kunas
Daily card – 70 Kunas
Lost card – 600 Kunas
Monthly subscription – 600 Kunas
Yearly subscription – 3,600 Kunas
Fees for multiple day parking:
1 day – 70 Kunas
2 days – 140 Kunas
3 days – 210 Kunas
4 days – 245 Kunas
5 days – 280 Kunas
6 days – 315 Kunas
7 days – 350 Kunas
8 days – 375 Kunas
9 days – 400 Kunas
10 days – 425 Kunas
11 days – 450 Kunas
12 days – 475 Kunas
13 days – 500 Kunas
14 days – 525 Kunas
15 days – 545 Kunas
16 days – 565 Kunas
17 days – 585 Kunas
18 days – 605 Kunas
After 18 days 605 Kunas + 20 Kunas / day
Cafe:
There is a cafe inside the Airport. You can relax before or after your flight in the cafe bar found inside the terminal building where you have a view of the runway.
There is also a stall that sells refreshments, drinks, snacks, newspapers, and magazines while waiting for your flight.
Duty Free Shop:
There is a duty free shop where you can buy souvenirs inside the Osijek Airport.
The shop has various products from international brands. It also showcases local products from Croatia.
You can access the duty free shop as soon as you arrive in Osijek or before departing from the airport.
Wi-Fi:
Wi-Fi is available inside the Osijek Airport.
Passengers with Disabilities and Medical Conditions:
Passengers with special needs are given special care and attention by the Osijek Airport staff without extra charge. You just need to notify the airline of your needs as soon as you book your flight. You can request for a wheelchair during your trip.
Just inform the airline of the degree of your mobility. You will not be charged for the wheelchair.
If you are bringing your own wheelchair, notify the airline of the dimensions and the weight of your wheelchair including the type of battery used by the wheelchair.
Passengers who are visually or hearing impaired will also be given assistance by the staff of Osijek Airport without extra charge. They are not required to present a medical certificate.
Passengers with certain health conditions such as heart problems, stroke, serious fractures, and those who have recently undergone an operation are required to present a medical certificate before boarding the flight.
Contact Info:
Telephone: +385 31 514400, +385 31 514402
Fax: +385 31 514460
Email: info@osijek-airport.hr