Rijeka Airport, also known as Zračna luka Rijeka, is an international airport serving Rijeka, Croatia.
This airport is quite busy during the summer months of July and August because it is used by several low-cost carriers from Europe to fly tourists to the northern part of Croatia.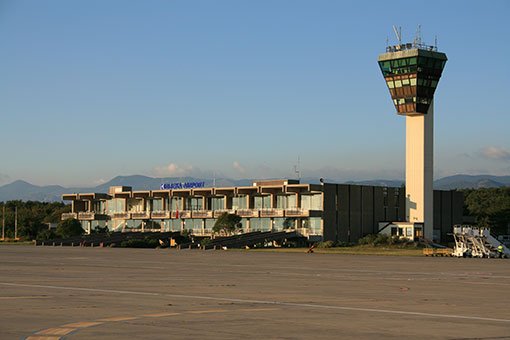 General Information About Rijeka Airport:
Full Name: Zračna luka Rijeka
Airport Operator: Zračna luka Rijeka d.o.o. or Rijeka Airport Ltd.
IATA identification code: RJK
ICAO airport code: LDRI
Opening date: May 1970
Elevation/Altitude: 278 ft or 85 m
Airport TimeZone: Europe/Zagreb
TimeZone GMT: 2:00
Website: http://www.rijeka-airport.hr/
Location of Rijeka Airport:
GPS Coordinates: 45°13'07.6″N 14°34'11.2″E
Airport Address: Hamec 1, Omišalj, Croatia
Getting to and from the Airport:
Rijeka Airport is located in the near town of Omišalj on the northern part of the island of Krk. It is 17 km from Rijeka railway station.
It is close to the Krk island bridge connecting the island to the mainland.
The island of Krk is connected with 15 cities in 11 countries in Europe through the Rijeka Airport.
Airport Shuttle Bus
A bus shuttle service is available from Rijeka Airport to Rijeka, Crikvenica, Kraljevica, Omišalj and vice-versa. The tickets need to be bought in advance, at least 30 minutes before the scheduled departure. The travel time between Rijeka Airport and the bus station is approximately 30 minutes.
Here are the prices for each trip:
Rijeka Airport to Rijeka – 50 Kunas
Rijeka Airport to Crikvenica – 40 Kunas
Rijeka Airport to Kraljevica – 30 Kunas
Rijeka Airport to Omišalj – 20 Kunas
The prices are the same vice-versa.
Public Transport / Local Bus
There are no public bus lines or transportation to and from Rijeka Airport.
Taxi
There is a list of accredited taxis that have a valid license of the Rijeka Airport.
Passengers are highly encouraged to only use taxis that are part of the list.
The list of the legal taxis can be found as soon as you exit Rijeka Airport. You can also check this link to see the list of legal taxis http://rijeka-airport.hr/pages/sub/6/doc_en/legal-taxi-2018-eng.pdf.
The prices vary to depending on your destination and depending on how many passengers there are. A taxi ride from Rijeka Airport to Rijeka costs 255 Kunas for 1-4 persons and 355 Kunas for 5-8 persons. Here is the official taxi price list for the taxis in Rijeka Airport http://rijeka-airport.hr/pages/sub/6/doc_en/taxi-price-list.pdf.
Pre-booked Transfer
Booking a private transfer is a hassle-free option especially if you have a lot of luggage.
It is the easiest and most comfortable way to travel from Rijeka Airport to any destination. There will be a driver waiting for you at the airport as soon as you arrive.
For a transfer from airport to Rijeka, the prices are as follows:
1-3 persons – 35 Euros
4-8 persons – 45 Euros
8-14 persons – 70 Euros
You can book your transfer through this website: https://www.buscroatia.com/bus-station-rijeka/.
Another company that offers transfers from the airport to anywhere on the island of Krk is Aurea.
You can contact them for bookings on their website https://www.aurea-krk.com/krk-accommodation-transfers.
These are their published rates:
1-3 persons – 50 Euros
4-5 persons – 70 Euros
6-8 persons – 90 Euros
Per hour waiting time at the airport for delayed flights – 10 Euros
Rent A Car On Rijeka Airport
There are local and international car rental companies that are allowed to operate inside the Omišalj Airport.
The car rentals are regulated by an ordinance of parking usage at the Rijeka Airport.
You can book your Rent-a-Car on this link Auto Europe car rental
Here is a list of the car rental companies on Krk Island Airport that have an office in the terminal building:
A-anticus
Air iznajmljivanje automobila
Anterra
Auto Benussi
Express rent
Fleet rent a car
M.D.B.
Oryx
Ridecar
Smart Car
Uniline
Viator
These are the accredited car rental companies inside the Krk island Airport but don't have an office inside the terminal building:
Flights to and from Rijeka Airport:
These are the airlines operating at the Rijeka Airport:
Croatia Airlines
Norwegian
AirBaltic
Arkia
Eurowings
Germanwings
Ryanair
Condor
LOT Polish Airlines
Trade Air
Bulgaria Air
Small Planet Airlines
Smartwings
Primera Air
Transavia
Czech Airlines
Enter Air
These are the destinations that you can reach through the Rijeka Airport: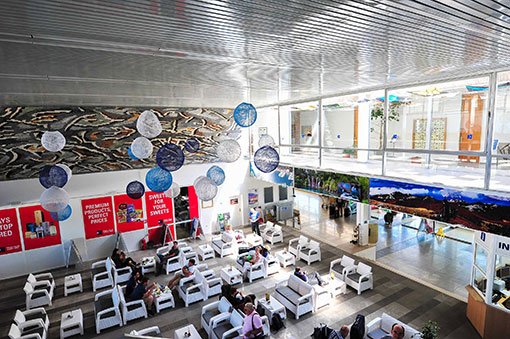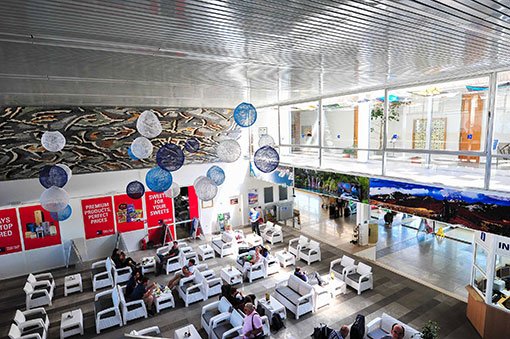 Dusseldorf
Dubrovnik
Eindhoven
Frankfurt
Goteborg
Hannover
Hamburg
Karlstad
Koln
Katowice
Košice
London
Munchen
Norrkoping
Oslo
Osijek
Paris
Riga
Stockholm
Split
Stuttgart
Tel Aviv
Tallinn
Warsaw
Distance between the Omišalj Airport and the main tourist destinations around it:
Njivice – 10 km
Malinska – 15 km
Rijeka – 20 km
Krk City – 25 km
Vrbnik – 25 km
Punat – 37 km
Opatija – 45 km
Baska – 45 km
Zagreb – 180 km
Services:
Parking:
There is a parking lot in front of the terminal building and the use of the parking is regulated by an ordinance at the Rijeka Airport.
Here are the published rates for parking:
10 minutes – free
1st hour – 15 Kunas
2nd and 3rd hour – 10 Kunas per hour
Every succeeding hour up to 12th hour – 5 Kunas per hour
1st day (from 12th hour to 24th hour) – 80 Kunas per day
From 2nd to 14th day – 50 Kunas per day
Lost parking ticket – 500 Kunas
Prepaid parking card – 100 Kunas per parking card
Prepaid only:
Monthly rate – 1,200 Kunas
Half-year rate – 3,400 Kunas
Yearly rate – 6,000 Kunas
Collect the parking ticket upon entering the parking lot through the automated parking entering gate.
The parking ticket contains the time and date you entered the parking lot.
Pay the parking free through the automated pay station before leaving Rijeka Airport.
Get your parking ticket back and insert the parking ticket in the automated parking exit gate with the barcode facing upward.
This action will enable the opening of the parking gate which will allow you to leave the parking lot.
If paying by cash, you can do it at the automated pay station. If paying by credit or debit card, do it at the information counter.
All payments after 8:00 pm can only be done through the automated pay station which can be found at the main entrance of the airport building. You have 10 minutes to leave the parking lot upon payment.
Cafes and Restaurants:
There are 2 cafe bars inside the terminal building that serves coffee, refreshments, snacks, sandwiches, salads, and desserts. One is located at the ground floor of the main hall of the terminal building where you can find a big terrace in front of the building.
The other one can be found in the international departure area on the first floor of the terminal building right after Travel Value Shop. It has a terrace for smokers. The cafe bars have a modern design.
Shops:
The Travel Value Shop is located on the first floor of the terminal building right after security check. In this shop, you can find various products from world-known brands. You can also find local products and food here.
Nursery Room:
A nursery room is provided by airport for the needs of mothers with children.
The nursery room can be found in the main terminal building just beside the ladies toilets. You can also ask the staff at the information desk and they will be happy to give you directions to the nursery room.
Passengers with Reduced Mobility:
Passengers who are disabled or with reduced mobility should immediately inform the information desk so that assistance will be provided to them upon check-in until they board the aircraft for outbound flights and from getting off the aircraft until they reach their transfer for inbound flights.
Special assistance service is provided to passengers with vision and hearing impairment and passengers with reduced mobility or with disability upon registering this information on their flight.
Stretcher passengers and passengers with reduced mobility or disability will be escorted by the airport staff until the gate where they are boarded into the aircraft.
The airport will provide the necessary equipment such as the wheelchairs.
Passengers with Pets:
You are allowed to bring pets in Rijeka Airport provided that your country of destination allows this and that you are abiding by the rules and regulations of the airline.
The pets can travel either in the aircraft's cargo section or the passenger cabin depending on their weight. They also need to be put inside a container under defined conditions.
The information needed about the required documents for your pet before flying can be obtained from your airline.
Lost Luggage:
Immediately report to the information counter if a luggage has been damaged or hasn't arrived at the Rijeka Airport.
You will be asked to fill out a form. You should report this immediately after your flight before you leave the airport. The report won't be entertained if some time has already passed.
Once you have filled out the form, the search for your luggage will begin.
You will get a unique ID number that you can use to track where your luggage is located. Simply sign up for a luggage tracking link at your airline's website.
Airport is not responsible if the luggage doesn't arrive on time or cannot be found.
The moment the luggage has been found or as soon as it arrives at the airport, you will be immediately contacted and there will be a delivery arrangement for your luggage.
Contact Info:
Telephone: ++385 51 841-222
Email: information@rijeka-airport.hr