Pula Airport, also known as Zračna luka Pula, is an international airport that serves Pula, Croatia.
It also serves as an alternative airport for some cities in Eastern Italy and parts of Slovenia.
It is also used by passengers who are either flying privately or through rented aircraft and want to see Brijuni islands, attend shows and concerts at the Pula Arena, or simply sail their yachts.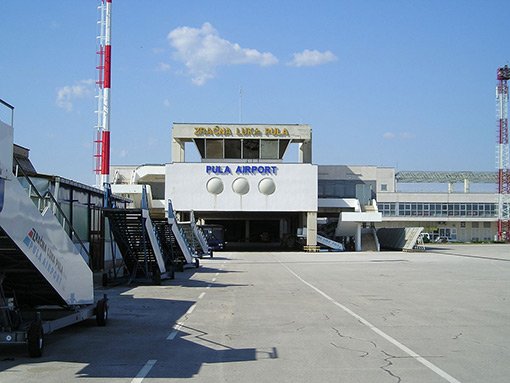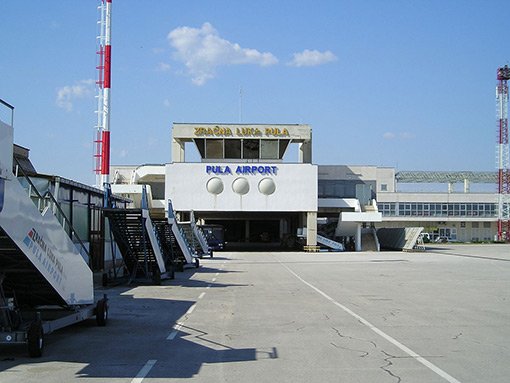 Pula Airport used to be a military airport that was turned into a public airport in 1967.
At present, it is now capable of handling large wide-body aircraft like Ilyushin II-96 and Boeing 747.
General Information About Pula Airport:
Full Name: Zračna luka Pula
Airport Operator: Zračna luka Pula d.o.o. or PULA AIRPORT ltd
IATA identification code: PUY
ICAO airport code: LDPL
Opening date: May 1, 1967
Elevation/Altitude: 274 ft or 84 m
Airport TimeZone: Europe/Zagreb
TimeZone GMT: 2:00
Website: www.airport-pula.hr
Location of Pula Airport:
GPS Coordinates: 44° 53′ 37″ N 13° 55′ 20″ E
Airport Address: Ližnjan, Valtursko polje 210 p.p. 89, HR-52100 Pula, Croatia
Getting to and from the Pula Airport:
Pula Airport is located 6 km east of Pula.
Shuttle Bus
There is a shuttle bus that connects Pula Airport with the following places:
Pula – main bus station
Verudela
Medulin
Fažana
Rovinj
Poreč
Novigrad
Umag
Rabac
For the price list, you can check https://airport-pula.hr/wp-content/uploads/2017/10/PULA-AIRPORT-SHUTTLE-PRICES-2015.pdf
For the timetable, you can check http://prodaja.fils.hr/lpindex.php?lng=en&l=Shuttle
To save money, book your tickets online. You will save a lot if you book your tickets online instead of buying the tickets on the bus.
The shuttle bus leaves the airport 30 minutes after the arrival of Jet2.com, Germanwings, Norwegian, and Ryanair.
You can find the shuttle buses in front of the Terminal Building.
Taxi
There is only one official Taxi provider at the Pula Airport which is Udruga Taxi Ližnjan. For more information on Udruga Taxi Ližnjan, you can visit http://taxi-airport-pula.com/.
Taxis are available outside the terminal building right next to the bus terminal.
Pre-booked Transfer
Aside from taxi services, Udruga Taxi Ližnjan also offers car and van transfer depending on how many passengers there are in a group.
You can pre-book your transfer at http://taxi-airport-pula.com/.
Booking through the website also saves you money because you get a huge discount when booking before your actual flight rather than booking it on the spot.
You can also pre-book a private or shared transfer through this website https://www.buscroatia.com/bus-station-pula/.
Although it may be convenient to pre-book a transfer, it is only recommended if you have a lot of luggage.
The journey from Pula Airport to Pula city center only takes about 15 minutes but can double during the summer due to heavy traffic.
Car Rental On Airport Pula
Car rentals are available at the main hall and Arrival area of the terminal building.
You can pre-book the car in advance on this website Auto Europe car rental which is recommended especially during the peak season or you can also hire directly at the rent-a-car desks inside the airport.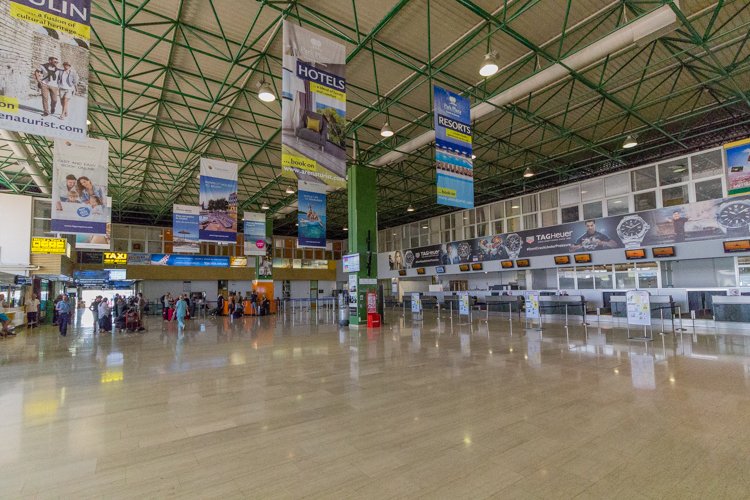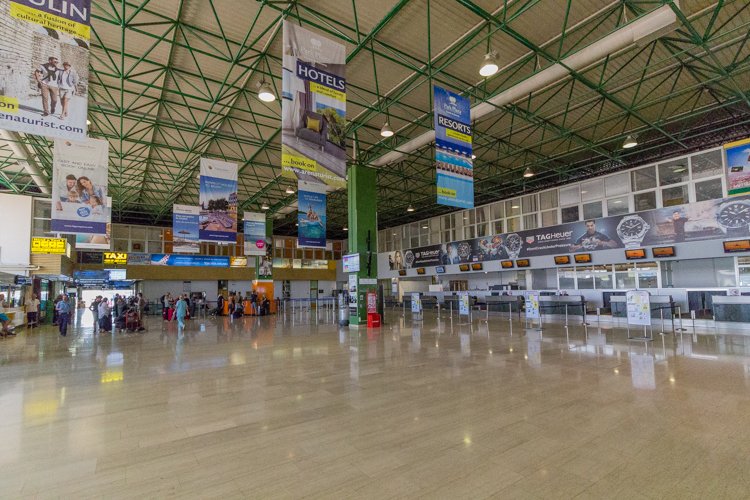 These are the following local and international car rental companies that are available at Pula Airport:
Avis
Budget
CarpeDiem
Carwiz
Enterprise
Europcar
Firefly
Fleet
Hertz
Last Minute
Oryx
Sixt
Uniline
Ventura
Will
Airport Line
Flights to and from Pula Airport:
There aren't much flights to and from Pula compared to other cities in Croatia that are a lot busier. The only regular destinations to and from Pula are Zadar and Zagreb through Croatia Airlines and Osijek and Split through Trade Air.
There are also flights to and from other European cities but these are only seasonal flights.
These are the following airlines that have flights to and from Pula Airport:
Croatia Airlines
Ryanair
Bulgarian Air
Trade Air
Silver Air
SAS
Braathens R.A.
Finnair
Norwegian
Easyjet
Volotea
Eurowings
Lufthansa
Aer Lingus
Transavia
Cityjet
Arkefly
Transavia
LOT-Polish Air
Globus Airlines
Ural Airlines
Redwings
Air Serbia
Swiss Air
Peoples Vienna Line
Edelweiss
Windrose
Thomson
Jet2.com
British Airways
These are the destinations that you can visit through Pula Airport: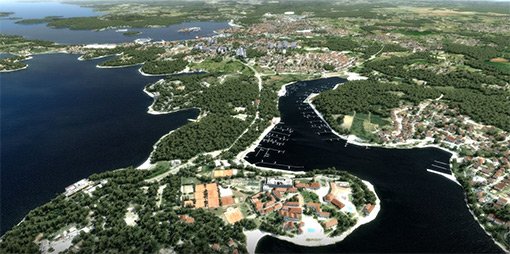 Brussels
Varna
Dubrovnik
Mali Lošinj
Copenhagen
Helsinki
Paris
Nantes
Berlin
Cologne
Frankfurt
Stuttgart
Hamburg
Dusseldorf
Munich
Dublin
Milan
Rotterdam
Amsterdam
Oslo
Bergen
Stavanger
Oslo
Warsaw
Moscow
St. Petersburg
Beograd
Gothenburg
Stockholm
Trolhattan
Basel
St. Gallen
Geneva
Zurich
Kiev
London
Birmingham
Manchester
Bristol
Edinburgh
East Midlands
Leeds
Liverpool
Since the flights are seasonal for these destinations, better check with the airlines and ask about the flights to and from these destinations through Pula.
Services:
Parking in Pula Airport:
Pula Airport offers a public parking space that has self-service payment.
The prices vary depending if you do a short term or long term parking.
Payment is done in cash but if you are going to pay through credit card, please contact the information desk at the main passenger building.
Long Term Parking Rates:
1-3 hours: 5 Kunas / hour (Each subsequent hour 2 Kuna)
Day Card 1st Day: 57 Kunas
Day Card more than a Day: 48 Kunas / day
Lost Card: 500 Kunas
VAT is already included in these prices.
The first 15 minutes are free of charge.
Parking B is not intended for passenger cars. It is intended for rental cars, shuttle buses, and taxis.
You can actually get a rough estimate of how much you will be paying by entering the details on this page https://airport-pula.hr/en/passenger-info/parking/.
You just need to enter the exact date and time you intend to park the car and it will give you a calculation of how much you will be paying for parking.
Bars and Cafes:
There is only one cafe bar in Pula Airport which can be found in the main terminal building and it is called Caffe' Bar. It has been recently opened. This cafe bar is larger and more modern compared to the previous one.
Caffe' Bar offers coffee, drinks, refreshments, sandwiches, cakes, breads, pizza, salads, and ice creams. There is a separate lounge for smokers.
Business Lounge:
Pula Airport's business lounge opened in June 2017. Only business class passengers of Swiss International, Siberia Airlines, Finnair, Air Serbia, Globus, and Lot Polish Airlines are allowed to access this area.
Duty Free:
The duty free shop in Pula Airport features products from premier world brands with novelties in the category of cosmetics, perfume, liquor, accessories, and sweets. It also offers products and souvenirs from Istrian autochthonous.
VIP Passengers:
Pula Airport offers VIP passengers for passengers who request for discretion and privacy. The management facilitates VIP departures and arrivals discreetly and efficiently. This service is great for CEOs, head of state, celebrities, and professional athletes.
Exchange Office:
The new exchange office can be found on the eastern side of the passenger building. You can see it by the exit of the international arrival area. This is where you can perform currency exchanges either from local to foreign currency or from foreign to local currency.
Baby Care:
Pula Airport cares for the youngest passengers and their well-being that's why there are adequate facilities, changing rooms, and playroom all over the passenger terminal building.
Beside the toilets in the main hall, there is a room called "Mother and Child – Nursery" where mothers can breastfeed or change their baby's diapers discreetly. This room is also available in the baggage claim area once you land on this airport.
All female toilets in the international departures area are equipped with a baby changing table.
PRM or Passengers with Reduced Mobility:
Pula Airport provides the necessary staff and equipment for people with disabilities or reduced mobility without any additional charge. Simply request for this service as soon as you book your flight. You can also contact Pula Airport's information desk by phone to inform them on your request.
Once the PRM reaches the airport, he/she needs to go to the information desk to request for assistance.
An airport staff will assist him/her from there.
The number of assistants and the equipment that will be provided will depend on the PRM's needs. He/she will be assisted all throughout check-in, security check, and boarding procedure.
These are the different classifications of PRM:
WCHC – Passengers cannot walk or stand and are totally immobile. One or two personal airport assistants will accompany them to and from their cabin seats.
WCHS – Passengers have difficulty walking up or down the stairs and needs help in getting off the plane and walking to the terminal building and also from boarding until getting on the plane. One or two personal airport assistants will accompany them.
WCHR – Passengers are not able to walk long distances and therefore need help in walking from the airplane to the terminal and vice versa. A personal airport assistant will guide the passenger.
BLND – Passengers that have visual disabilities. A personal airport assistant will accompany the passenger upon request.
DEAF – Passengers with hearing problems. A personal airport assistant will accompany the passenger upon request.
Contact Info:
Telephone: +385 52 530 100
E-mail: uprava@airport-pula.hr