You are planning to travelling to Croatia, our website is all-inclusive Croatia travel resource of information about Croatia travel itinerary and this lovely Mediterranean country.
Visit Croatia and find out more about beauty of the cities on the Dalmatian coast, over thousand Croatian islands – which are true gems of Croatia tourism and flawless holiday resorts in Istria.
Although Croatia is a relatively small country, travelling Croatia sometimes can be tricky not because of poorly developed infrastructure, but because of its extraordinary geographical shape and one of the most rugged coastlines in Europe.
It can be a particularly difficult task if you were hoping for island hopping on Croatian islands.
Our Croatia travel site will provide you accurate, updated and helpful information and make your holiday planning easier.
Travelling To Croatia by air
Despite the uncommon geographical shape and the fact that Croatia has one of the most most indented coastline most of the travelling to Croatia holiday resorts are quite easy to reach due to the presence of 8 international and 11 regional airports.
Croatia airports equally represented in each region what making gives you an easy choice and easy access no matter if you are travelling to Croatia from any corner of the world.
Main international airports in Croatia are:
Split Airport
Dubrovnik Airport
Zadar Airport
Zagreb Airport (Pleso)
Pula Airport
Rijeka Airport (located on Krk Island)
Osijek Airport
Bol Airport (located on Brac Island)
Airports in Split, Zagreb, Dubrovnik, Zadar and Pula are most often used by international travelers and they are well connected with other major cities in Europe such as: London, Manchester, Milan, Paris, Rome, Frankfurt, Basel any 70 other different cities from 21 country.
If you are looking for low cost flights to Croatia you can check companies like EasyJet, Ryan Air, German Wings, Wizz Air or many other low-cost European company and compare prices of cheap flights to Croatia.
Hopping Croatian islands
If you are interested to visit one of the thousand Croatian islands, our Croatia travel blog will provide you detailed information on all major Croatian ferry ports and complete schedule of arrivals and departures to most popular Croatian islands like: Brač, Hvar, Vis, Korčula, Krk, Cres any many others.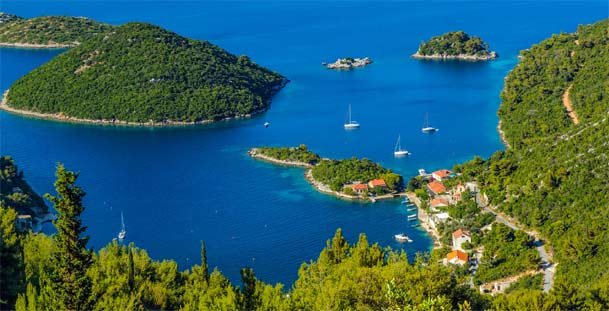 Travelling to Croatia by Train
Railways are quite popular option of transportation in Croatia, although railway network isn't that well developed if we exclude north part of Croatia (area around Zagreb and Slavonia).
Two main train lines connecting Zagreb with two larger cities on Croatian coast Rijeka and Split.
Zagreb have high frequency of train lines to and from capital of Croatia.
Travelling to Croatia by bus
Bus lines in Croatia are excellent, first reason is that bus is cheapest way of travelling around Croatia and they are connecting well even smaller villages with larger cities in Croatia.
Bus service in Croatia have high standards and all buses are in great condition.
After completion highway A1 you can find express bus lines which connects Zagreb with Split and drives takes around 3 and half hour.
Rent a car options in Croatia
Car Rental in Croatia is maybe a most appropriate and fastest way of travelling around get know better about coastal towns Croatia.
Although Croatia is relatively small country due to the large number of attractions renting car in Croatia is most comfortable and affordable experience if you want to visit them all.
All major car rental companies are offering you many convenient pick up locations either at airports or in city centers.
You can rent your car in larger cities: Zagreb, Split, Dubrovnik, Zadar, Rijeka, Pula, Makaraska or in smaller places like Opatija and Omišalj.