Traveling to or around Croatia can be quite complicated and it require smart planning and scheduling whether you are traveling from North America, Australia, Europe or within the Croatia. Main reason for this is not bad infrastructure or poor connections with the rest of the world, but the unusually contoured territory of Croatia.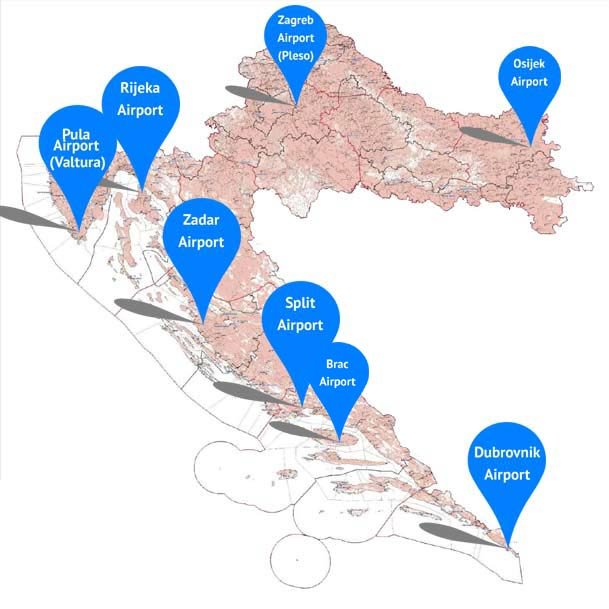 Croatia has eight main airports which serves international flights and eleven smaller regional airports for traveling within the country or for sports and recreational purposes. Zagreb international airport is leading airport in Croatia if looking at the number of arrivals. However airports in Split, Dubrovink, Zadar and Rijeka every year slowly overtaking the number of arrivals and departures to Zagreb airport.
Zagreb Croatia Airport
International airport Zagreb is located 18km from city center of Zagreb in town Velika Gorica. Zagreb airport is also know as Pleso Airport by part of town Velika Gorica where is airport located. Pleso accepts more than 2 millon passengers per year from international and inland flights. Zagreb city gets its own airport in 1909 in part of town called Crnomerec and later in 1959 it was relocated in Pleso where it is today. Currently Zagreb airport is expanding and there will be built a second terminal for receiving passengers from international flights.
Split Croatia Airport
Second largest airport in Croatia it terms of served passengers, around 1.8 million in 2014. Split airport is located in Kastela which are 22 km away from historical center of Split and just 11 km from center of UNESCO protected Trogir town. Second name for Split Airport is Resnik again owes its name by part of town where is located. As with the Zagreb airport in Split airport there are plans to construct a second terminal for receiving international flights.
Dubrovnik Croatia Airport
Dubrovnik International airport is located in 13 km away from city center in village Cilipi after which Dubrovnik Airport was named. Due to huge interest of travelers around the world for Dubrovnik and increased number of flights Dubrovnik terminal is currently under construction until February 2016, but when works are done Dubrovnik Airport will have largest terminal in Croatia. In year 2014 Dubrovnik airport had over 1.5 million passengers.
Zadar Croatia Airport
Zadar Airport is located in Zemunik Donji just 8km away from center of Zadar. Zadar airport accepts every year around half million passengers from international flights and these numbers constantly growing every year. It is well connected with rest of the europe due to low cost airline companies such as:Ryan Air, GermanWings and Lufthansa.
Rijeka Croatia Airport
International Airport Rijeka is located in town Omišalj on Krk Island just 17km away from city center of Rijeka. When you get there you can easily reach Rijeka with regular bus line, tax service or rent a car. Island of Krk is connected with mainland with Krk bridge.
Pula Croatia Airport
Pula International airport is located just 7km away from center of Pula in Valtura part of city. Pula Airport is well connected with many European cities with low-cost flights from:Birmingham, London Gatwick, Manchester, Frankfurt Hahn, St. Gallen, Edinburgh, Oslo, London Stansted, Leeds, Paris, Touluse and Madrid.
Osijek Croatia Airport
Osijek Airport is loacted 20km away from center of city Osijek in Cepin village. There are Only a few international flights to Osijek from London, Budapest and Novi Sad mainly during the summer season.
Brac Croatia Airport
International airport on Brac island is loacted on Veško Polje on 541 meter above sea level. It is only 14km away from Bol where is one of the most beautiful beaches in Croatia located Zlatni Rat and 30 kilometers away from Supetar lergest town on island. Brac airport have direct international flight during summer season with: Dusseldorf, Leipzig, Zurich, Malmo, Linz, Graz and Vienna.